DUBAI INCENTIVISED or UAE – "THE MICE WAY" BASED ON 30-40 PAX. (04 NTS. / 05 DAYS)
Day 1
Late evening arrival in Dubai
Upon arrival at the Dubai International airport, guests proceed directly to Immigration counter to clear the formalities, customs and they will be met and greeted by our representative just outside the airport.
We recommend the Premium Meet & Greet Service by Ahlan for your group which includes several benefits and comfort for your guests after a long flight as follows:
Your group will be met right at the aircraft gate itself and escorted through various arrival formalities
Lounge access with light refreshments while Immigration formalities are completed through a dedicated Fast Track channel
Porterage assistance with baggage collection
Escorting the guests and bringing them outside to the waiting staff of Arabian Connection up to the Pvt. Coach.
Transfer by Pvt. Coach with Guide to selected hotel. Mineral water offered on coach.
Dedicated check-in area will be arranged for groups with welcome drinks and cold towels.
Arabian Connection project manager will accompany the group to the hotel and assist in check in.
Note: Depending upon check-in time a cocktail / light canape reception can be arranged during check-in or cold dinner boxes provided in rooms.
Overnight stay at the selected 5* beach hotel
Day 2
Breakfast at the hotel
Proceed for a Heritage Tour of Old Dubai – "Memories Of The Past"
Tour Duration is about 4 hours in Total – Seat in a coach basis OR exclusive coach basis for groups with English or Language speaking Guides as required. Enroute pass by parts of New Dubai.
Dubai, a city where the perfect blend of tradition meets modern, a city steeped in centuries old culture, yet having all the glitz and glamour of any big city in the world.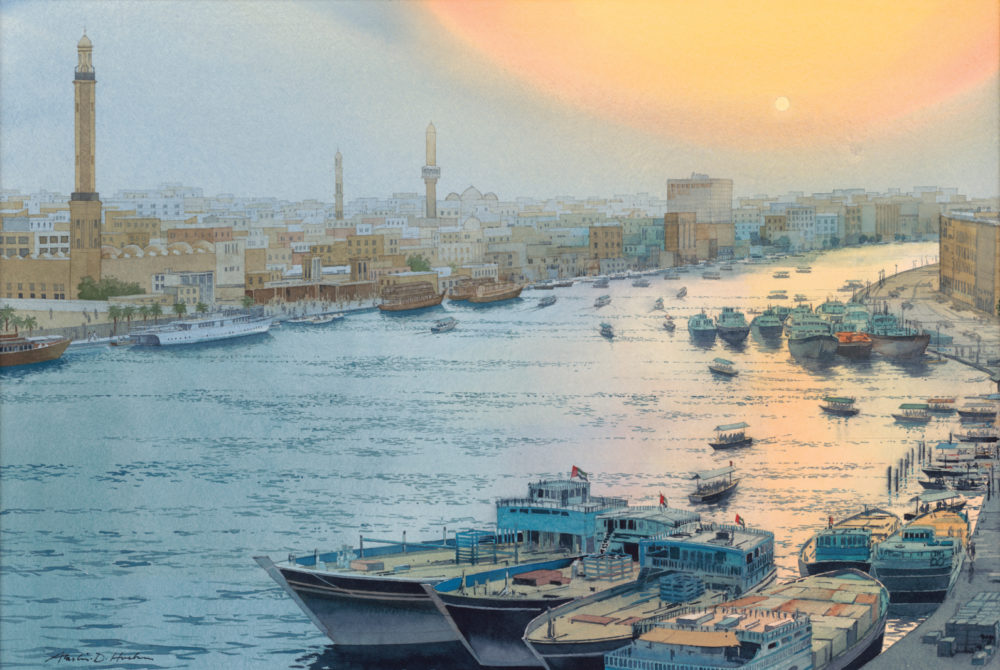 Explore the amazing Al Fahidi Area which will soon be a treasure trove of no less than 55 museums showcasing the history and culture of the land – including the Al Fahidi Fort & Museum. Crossing the creek in the little water taxis the 'abra' brings us to the Deira side where we roam the narrow by lanes off the Spice & Gold Souq.
Time for some retail therapy perhaps? We would continue the tour visiting the Shindagah Area where one can visit the House and the birth place of Sheikh Rashid and the Heritage village -- reminiscent of the days gone by.
Suggest: We can arrange a fun, interactive, teambuilding challenge on this tour like an Amazing race, offering clues to the various places of interest on the itinerary and pocket money for public transportation as required. This can start right from your hotel and end at the proposed / selected Lunch venue! The group would be split into teams and points awarded to choose the winning team who would be offered local souvenirs as gifts!
Lunch Options:
Budget Option – SMCCU Lunch with Cultural session (highly recommended)
Medium Option – Business Lunch at Lakeview Restaurant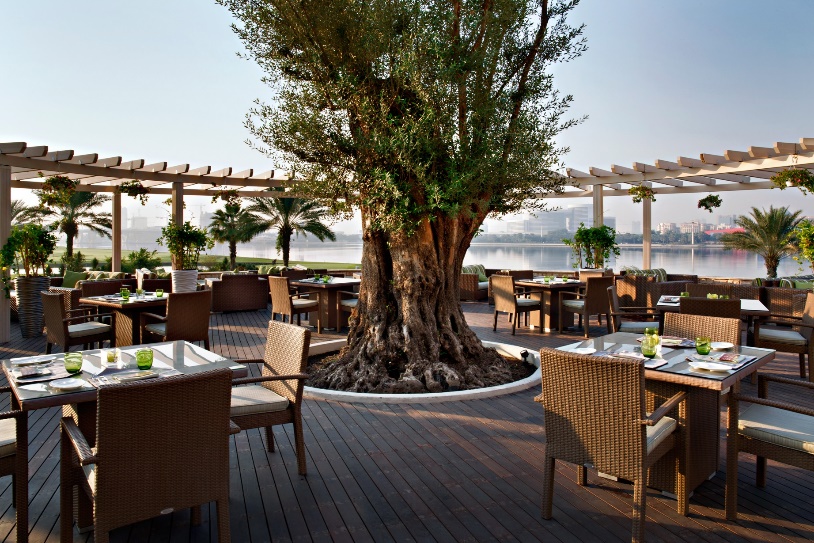 Premium Option – Al Grissino – Italian fine dining overlooking Burj Khalifa and Financial district with Sheikh Zayed Road Skyline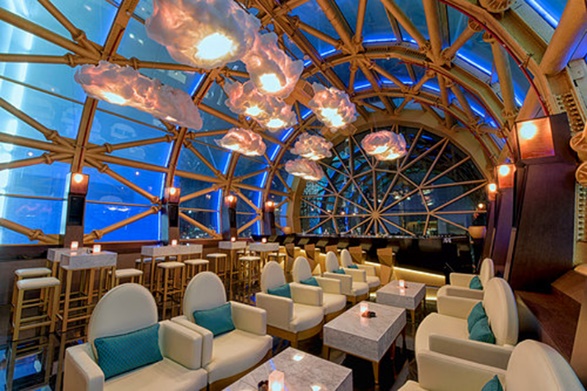 Post lunch return to your hotel for an afternoon at leisure to enjoy the pool & beach facilities. For the ladies perhaps, a pampering spa treatment would be ideal.
Evening – transfer by Pvt. Coach & Guide for your dinner venue. Here are some hand-picked dining options:
Budget Option – Serafina in Souq al Bahar overlooking the dancing water fountains and Burj Khalifa – a spectacular site at night in an iconic setting. Enjoy a 3-course set menu of fine Italian cuisine with a 2 hrs. standard beverage package.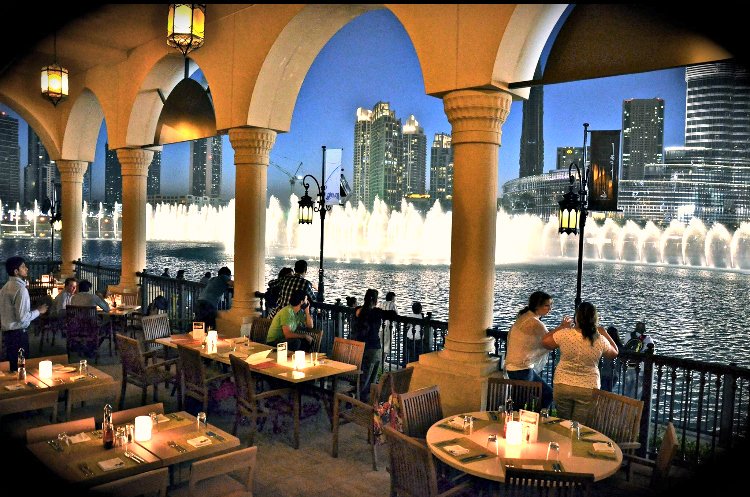 Medium Option – Thipthara in The Palace Downtown hotel by the banks of the Burj Khalifa Lake offering partial views of the dancing water fountain. An award winning exquisite Thai cuisine with an ambience and service to match – one of Dubai's finest Thai restaurants.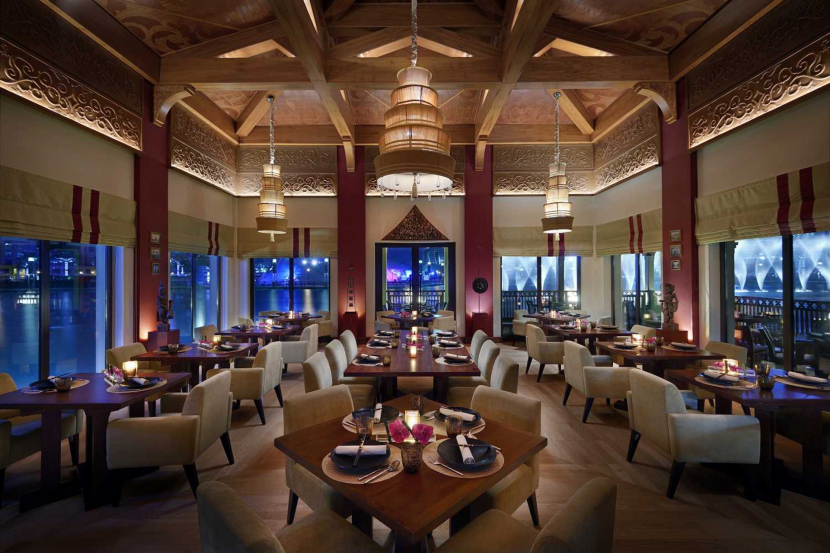 Premium Option – Bateaux Dubai – the only 5* cruising option on Dubai Creek. An elegant setting with onboard live entertainment and exquisite 04 course menus (including complimentary starters) combined with an unlimited standard or premium beverage package. Much more than a cruise, Bateaux Dubai is a top ten Dubai experience and a must-visit for residents and tourists. Discerning diners will enjoy five-star gourmet cuisine and premium beverage menus while appreciating the unique setting of this luxurious floating restaurant.

Return to hotel.
Overnight stay at selected 5* beach hotel.
Day 03:
This is the day when your group will experience the beautiful Capital City of Abu Dhabi.
08:30hrs. – An early start to head off by Pvt. coach with Guide for the appx. 90 minutes journey.
10:00hrs. – Arrive at the fabulous F1 Yas Marina Circuit for a thrilling experience of some of the following activities which again also can be done as team challenges:
Yas GT 3000 Hot Laps
Camaro Drag Experience
Self-Drive in Aston Martins, Merc. McLarens and so on
Note: Home country driver license or International driver license is a must.
For those not into adrenalin pumping experience we recommend a more relaxed option of a Venue Tour at the Circuit.
Explore one of the world's most advanced Formula 1 race circuits on a 2-hour guided tour of Yas Marina Circuit Abu Dhabi. Immerse yourself in a world normally open only to race drivers and their teams, and discover the circuit from the inside and out. From the North Grandstand views to the Pit Garages and Racing team villas to the Master Control room where it all happens, soak in the feeling of being alive at an actual event 'behind the scenes!' One can even stand for photos on the winner's podium lifting a 'trophy'.
We then proceed for an International Buffet Lunch at Origins restaurant in the 5* Yas Viceroy hotel built over the racing circuit.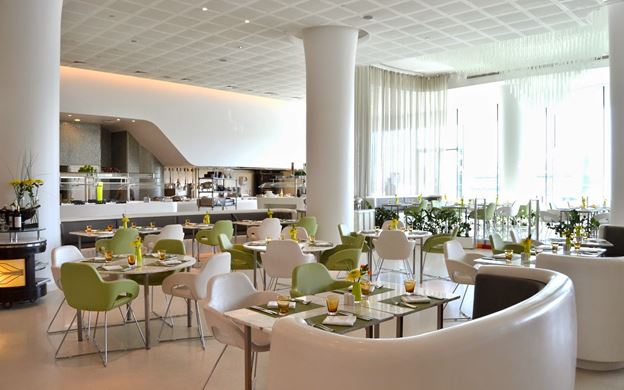 Post lunch visit the world's only Ferrari Theme Park for enjoying some exhilarating and crazy roller coasters and other rides as well as admiring the awesome Ferrari models on display over the years. The Park features a winning mix of rides and attractions for visitors of all ages, in addition to a wide variety of Italian delicacies and unique shopping experiences.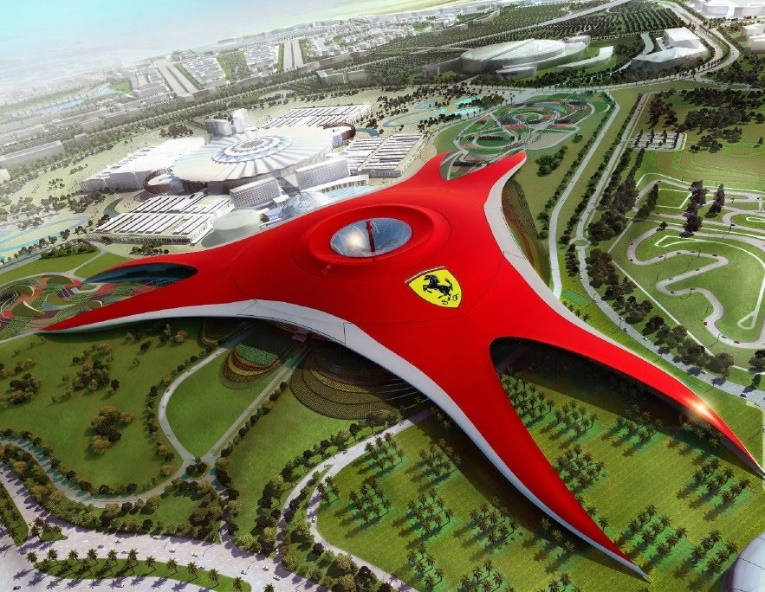 After a couple of hours at Ferrari World, we round-off our Abu Dhabi Adventure by visiting the amazing monumental Sheikh Zayed Grand Mosque just before sunset – the best time to visit as the sky turns into an evening twilight and the Mosque gets lit up in all its glory. The Mosque took 10 years to complete at a cost of appx. 2billion Aed.
Dinner – suggested venues in Abu Dhabi:
Medium Option – Saadiyat Beach Club on Saadiyat Island (exclusive outdoor area on the lawns or by the pool / beach). Enjoy a nice BBQ Buffet dinner with chill out lounge background music and a 2 hrs. unlimited standard beverage package.

Premium Option – Bar Fly by Buddha Bar in the Ritz Carlton Venetian Complex. Barfly by Buddha Bar is the only mystic-lounge concept in Abu Dhabi, offering an ambience of luxury and comfort of an intimate restaurant.
Bar Fly serving Pan Asian cuisine, is a mixture of bar, lounge, restaurant and a trendy nightlife destination.
The outdoor location by the water canal overlooks some of the finest 5* hotels all beautifully lit up at night. Depending on the time of day, Bar Fly can be an intimate bar setting for pre-dinner drinks and finally an exquisite culinary dining experience in the evening with the energy in the room ever increasing as the night progresses with the resident DJ cranking up the beat.
Proceed back to Dubai reaching late evening for overnight stay at selected 5* beach hotel in Dubai.
Note: on this day if the group wishes we also recommend moving to Abu Dhabi for an overnight stay at one of the luxurious properties such as Emirates Palace or the Ritz Carlton Grand Canal.
Day 04:,
Breakfast at the hotel.
AM: Enjoy a totally relaxing morning or choose from the various 'optional' activities we have on offer in Dubai as follows (at an additional cost):
Yellow (Rib) Boat Ride:

We recommend the 75 minutes Atlantis Tour -- Embark on a magical tour of the Arabian Gulf, through enchanting islands, amazing architectural structures, beaches and water life. This spectacular tour takes you to the most exclusive waterfront developments in the region The Palm Jumeirah. This is a thrilling speedboat ride passing the following areas and back:

The vibrant life style area of Dubai Marina & JBR Walk
The latest Blue Water development of Ain Dubai which will have restaurants, hotels, and the world's biggest Ferris Wheel called Ain Dubai.
See the iconic five-star Atlantis Hotel. The hotel has one of the most expensive hotel rooms in the world and is a spectacle to see from the water. You will be given the ideal view of this magnificent building, truly a modern-day wonder of Dubai; an ideal photo stop as well.

Helicopter Ride:

Dubai has 2 companies offering thrilling aerial flights over Dubai ranging from as less as 12 minutes to a long 40 minutes flight. Taking off from locations next to Atlantis The Palm or the Dubai Police Academy in Jumeirah, these latest helicopters can take max. 05-06 persons depending on strict weight restrictions and flights can be arranged during the morning or afternoon before sunset.

Some of the iconic landmarks covered (depending on the total flying time) are -

Palm Jumeirah
Burj al Arab
Jumeirah Coastline
Burj Khalifa & Downtown
Deira – Dubai Creek Golf Club

Seawings:

Dubai from the sky can also be experienced by a seaplane that can take off and land either on the Creek next to the Creek Golf Club or the Jebel Ali Hotel Marina.

Duration of flights range from the most popular 20 minutes snapshot flight to longer duration of 40 minutes or more depending on the routing. The aircraft can carry up to max. 09 guests (depending again on the weight restrictions).

From desert mirage to architectural marvels, our scenic tours provide the finest views of the country's renowned wonders. It's an experience that exudes the intimate charm and finest details of the UAE's iconic attractions; as well as the splendor of a thriving modern metropolis surrounded by vast stretches of empty desert and the shimmering waters of the Arabian Gulf.

Besides providing scenic air tours to guests, we also customize private charters that use 24 fully-licensed water landing strips and runways across the Emirates, including the international airports. It's the ultimate private journey for exclusive experiences or business excursions.

Luxury Yacht Cruise with onboard BBQ Lunch:

Starting from Dubai Marina, one can hire private luxury yachts on an exclusive basis, ranging in capacity from 10-15 guests upwards and take a 3-4 hrs. cruise on the open seas past iconic landmarks all the way to Burj al Arab and back with a chance to stop, drop anchor and swim in the calm waters. BBQ Lunch can be served on board with beverages as required.

Luxury Yacht Cruise with onboard BBQ Lunch:

Starting from Dubai Marina, one can hire private luxury yachts on an exclusive basis, ranging in capacity from 10-15 guests upwards and take a 3-4 hrs. cruise on the open seas past iconic landmarks all the way to Burj al Arab and back with a chance to stop, drop anchor and swim in the calm waters. BBQ Lunch can be served on board with beverages as required.

Camel Polo (highly recommended in season from October till April):

Perhaps the most unique sport and truly one of a kind in this region or anywhere in the world, we arrange this as a live spectacle for the entire group, combined with a nice breakfast, brunch OR lunch at the beautiful Dubai Polo & Equestrian Club. Enjoy this traditional royal sport with a local twist. Camel Polo is a unique, memorable and often hilarious experience.

To make up a game, you will need a group of at least eight people (four per team) Trained camels and professional staff make this easy and safe. Each camel will have one participant and one trainer to allow the player to focus on the game. The trainer steers the camel and the guest / participant focus on the game.

The basic rules are the same as the traditional horse-back polo, with each team required to score into the goal. This sport is for first-timers as well. Participants will be given a full safety briefing before the game.

The fun part? You are using very long mallets to hit a football and not a conventional polo ball!

Retail Therapy:

They say no visit to Dubai is complete without shopping – so a visit to Dubai Mall or Emirates Mall would certainly be worthwhile even if not into heavy buying!

Note: Some of the above activities such as Seawings, Helicopter Rides, Yellow Boats & yachts are all possible to do in Abu Dhabi as well.

Note: Guests doing any of the above activities are free to make their own arrangements for lunch unless the entire group wishes to do the same activity in which case nice lunch venues can be suggested.

We also believe in creating special experiences for the ladies in the group and keeping this in mind have tailored the most suitable and interesting options for them as follows:

The Dubai MasterChef Experience:

This would be an interactive cooking class at one of the leading hotels or at the modern premises of L'atelier des Chefs School. Depending on the number of persons the group can be split into 2 teams and will be provided a talk by the Chef about the basics of Arabic / Mediterranean cooking. Guests will then be provided the required ingredients to prepare the dishes under the Chef's watchful eye and the session would be rounded off by a simple, healthy meal as prepared by the guests. There can also be a 'cook-off' competition like a Master Chef styled contest but between teams not individuals.

How about a Chef's Hat and / or Apron with your personal names or even the company logo?

Henna Painting, Sand Bottle Art and Perfume Workshops:

Depending on the number of persons, client preferences and budgets, one can also arrange interactive workshops on any of the above activities as a 'coffee morning'.

Henna Painting – The art of Henna, or Mehndi, originally came from Ancient Egypt and is a temporary style of 'tattoo.' Today one can find this art practiced in many countries like India and Saudi Arabia. While for many cultures Henna Designs are made on a woman's body to celebrate occasions such as weddings, engagements, festive occasions, it is also popular today just as something ''decorative & a fashionable' for those who want something stylish and exotic without making a permanent commitment.

Sand Bottle Art – Often one sees in all the souvenir shops in the souqs and malls the colorful sand art in bottles of various sizes. Now it's your turn to create one of your very own! This interactive workshop will include a live demonstration by an expert sand artist and then guests will be invited to learn the art of filling sand in layers in bottles and mixing colors to create patterns and designs. At the end of the workshop, gests can also take away their creations as souvenirs!

Perfumes of Arabia – This is purely a workshop conducted by expert perfumers which will bring alive the 'Scents Of Arabia' creating a heady fragrance to tickle your senses and bring them alive. Participants during this workshop will acquire the fundamental knowledge for a natural perfumer, with regards to the use of essential oils.

Guests will get to experience first-hand the subtle nuances that go into the preparations and learn about the basics of perfume making. To round off this interesting workshop, guests can also be presented with 30ml vials of their favorite fragrances as souvenirs.

Shake A Leg – Belly Dancing Classes:

One sees the spectacular Belly Dancing only in Campsites in the desert or at hotels having high end Arabic nightclubs. Have you not wondered how it would feel to try this art yourself? Well this fun and interactive class will teach you just that as trained by an expert. At the end of the classes we guarantee all will be shaking more than just a leg!

Note: We can arrange the required transportation for return transfers to the venues for any of the above optional activities as required with escorting staff on complimentary basis. We always take care of each guest with our personal touch – your guests are never alone!

Post lunch, as this being the last day of our MICE Experience, we have something special lined up for you to choose from for your final evening:

Budget Option: Gala Dinner at the exclusive venue of the Golf Function Suite Patio at the Dubai Creek Golf & Yacht Club.

Medium Option: Shimmers @ Madinat Jumeirah – dining by the sandy beaches.

Premium Option: Al Hadheerah Restaurant @ Bab-al-Shams Desert Resort OR Qasr-al-Sultan Desert Village.

Budget Option: Golf Function Suite Patio (outdoor venue)

A red-carpet welcome awaits you as you get down from your fleet of luxury stretch limousines at the entrance to the Main Clubhouse of the iconic landmark which is the Dubai Creek Golf & Yacht Club.

You will be warmly greeted and escorted by our Project manager who would have advanced to the venue to ensure all for a smooth flow of the special evening for your group.

Proceeding upstairs you step out on to the Golf Function Suite Patio which offers a stunning view overlooking the greens of the course as well as Dubai Creek and the distant skyline with the skyscrapers lit up at night. This is your 'exclusive' venue for the evening!

Welcome beverages would be served upon arrival as the guests settle down and soak in the amazing ambience of this fine venue. An elegant 03 or 04 course set menu dinner will be then served along with free flow of house beverages as required.

Guests will be entertained by a DJ or Jazz Duo/Trio or a band playing western music (this can be entirely arranged as per your client's requirements). For the more energetic, a dance floor can also be set up to party after dinner. This venue is also ideal for a small stage and performing an Awards ceremony if so required.

Perhaps the most stunning highlight of this venue unlike any other, is the scope of doing a Gobo projection of the Corporate Logo on the Clubhouse sail which would be visible for miles around the city – what better way to increase your Brand Image?!

After the event guests will be transferred back to their hotel by Pvt. Coach with our accompanying staff.

(DTCM permits are required for entertainment at nominal charges as levied by the Government which we shall assist in procuring through the venue)

Medium Option: Shimmers @ Madinat Jumeirah

Tucked away in a quite location on the sandy beaches of the Mina 'A Salam Hotel part of the stunning Arabic architecture Madinat Jumeirah Complex, Shimmers has a perfect setting outdoors and indoors.

Guests will arrive by luxury stretch limousines at the entrance of the hotel and proceed by foot down to the 'buggy' station to be driven to the restaurant location few minutes away.

You will be warmly greeted and escorted by our Project manager who would have advanced to the venue to ensure all for a smooth flow of the special evening for your group.

This venue will provide an absolute 'wow' for your guests as they settle down listening to the gentle lapping of the waves in the cool evening breeze and what better sight to behold right in front of their eyes --- than the amazing Burj Al Arab hotel with changing colors on its sail-like design!

Shimmers is famous for its Mediterranean cuisine with a heavy Greek influence. Guests will enjoy a family "sharing platter" style set menu with a house beverage package, while being entertained by background music that matches the tone and ambience off this great venue.

After the event guests will be transferred back to their hotel by Pvt. Coach with our accompanying staff.

Premium Option: Al Hadheerah Restaurant @ Bab-al-Shams Desert Resort OR Qasr-al-Sultan Desert Village.

Although mentioned as a Premium option, these venues are often popular as dinner venues after a desert safari and therefore bit more casual in dress code as compared to the other 2 venues offered.

Guests will be transferred both ways by Pvt. Coach along with an accompanying Project manager. The drive each way will take appx. 60-90 minutes from the hotel depending on the location of the selected hotel.

Al Hadheerah Restaurant at Bab al Shams Desert Resort -

Upon arrival at the venue, you will be met by our project manager who would have advanced to ensure all for your seating in a separate area. Walking down the red carpet you will pass through little shops displaying and selling local wares and crafts like a traditional souq.

Stepping inside the restaurant which is totally open air, you will be transported into a 1001 Arabian nights fantasy land where the courteous staff will explain every aspect of the restaurant and the dozens of live cooking stations including traditional meats cooked underground and so on. A Spice souq display completes this amazing atmosphere which provides the most authentic Arabic dining experience like no other.

Soak in the atmosphere and revel in the aromas of the live cooking as you settle down for an evening that provides the most extensive entertainment which ranges from Arabian musicians, Belly Dancers, Tanura Dancer (skirt dance performed by males) to a Camel Caravan and Horse show on the dunes.

Al Hadheerah also has a small enclosure like a Heritage Village where exhibits display the trades of days gone by and one can also take pictures holding a Falcon on their arms!

One can't imagine the sheer variety and quantity of food available at this venue which can be enjoyed with traditional Arabic soft beverages and juices as well as an alcoholic house beverage package.

Qasr-al- Sultan -

Resembling an Arabic Fortress with structures constructed with the old wind- towers, Qasr-al-Sultan makes one step back in the times when hospitality was synonymous with luxury similar to that of a Sultan's palace.

Guests will be transferred both ways by Pvt. Coach along with an accompanying Project manager. The drive each way will take appx. 60-90 minutes from the hotel depending on the location of the selected hotel.

The entire concept is based around an Arabian Souq or market place where one can stroll around the various food stations taking their pick of some of the most exquisite Arabian cuisine that would befit any Royal kitchen.

The live entertainment is also extensive with traditional musicians and dancers enthralling the audience almost non-stop throughout the evening.

Overnight stay at selected 5* beach hotel.
Day 05:
Early breakfast at hotel OR breakfast boxes arranged from the hotel for group departing very early for the airport.
Check-out and transfer by Pvt. Coach with Guide for Dubai International Airport.
Arrive at the Terminal 1 or 3 building and be escorted by our Project Manager and guide to the relevant check-in counters. Our Project Manager would have advanced to keep a dedicated "Zone" ready for smooth and speedy check-in for the group allowing the maximum time to enjoy last minute shopping at the award- winning Dubai Duty Free before their flight back home.